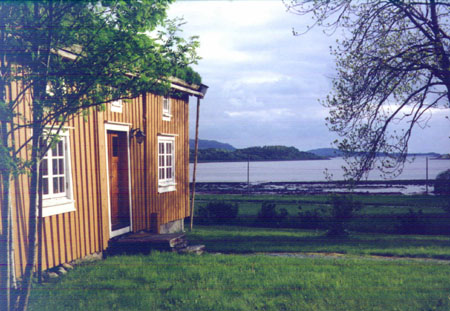 Ytre Namdal is a wonderful area along the coast of Nord-Trøndelag. It is known for its diverse and beautiful nature with short distances between mountains and seaside. The coast consists of thousands of islets and skerries. Here you will find abundant opportunities for fishing, sightseeing, hiking and boat trips. Also, there are some interesting cultural and historical attractions to visit.
"Gammelstua" ("The old house"):
"Gammelstua" is a traditional building typical of this area. It was built as the main building on Hongstad farm and Storeval mill. The house is situated in beautiful surroundings with a view to the sea nearby. The building was renovated in 1994.
Number of people:
Ideal for single people, couples or families up to five persons.
Area:
55 square metres including entrance, bathroom, kitchen and one bedroom with a loft.
In the bedroom you will find a bunk bed which has a double bed on the ground level. On the loft there is a double bed as well.
Outdoors there is a garden for our guests. Parking close to the house.
What you will find in the house:
All necessary kitchen utensils, but no dishwasher.
TV
Furniture of good standard
Roomy, tiled bathroom with sink, shower, WC and washing-machine.
Access to freezer

___________________________________________________________________
Cecilie and Petter Stevik
Postadresse: Storeval, 7970 Kolvereid
Telephon: (+47) 74 39 78 08 (private)
Mobil phone: (+47) 90 53 12 71
Fax: (+47) 74 39 78 08
E-mail: petter.stevik@storeval.com